About
Working in the field of software development for an extensive period of time, I have gained a lot of experience and knowledge as well. With 4+ years of professional training, I pledge to deliver a comprehensive response with end-to-end solutions to every client who seeks my assistance.
I believe in client satisfaction; hence my goal has always been to uplift my client's business by giving them the best services.
Connect with me to experience the best!
Cost-effective solutions.
Full customization according to your requirements.
Full assistance provided.
Utilizing modern technologies.
24/7 customer assistance.
Full Stack Developer | Top Rated Upwork Freelancer | Team Leader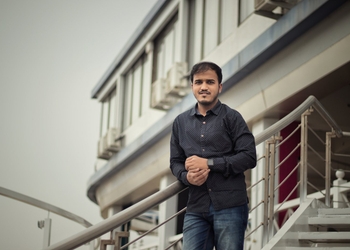 My Goals
Enhance productivity and maximize performance.
To be useful for clients and make them happy.
Every day to learn something new and to improve own skills.
Sumary
Gaurav Nikam
Full Stack Developer with 4 years and 2 months of experience in the Web Development and Android Application Development. I Worked on several projects and provided end-to-end solutions to the clients. I'm a quick learner with a passion for new technologies.
Kothrud, Pune, India
+91 7588097600
gaurav.nikam3@gmail.com
Publications
03/2015 – 03/2015
Sixth sense technology is a gesture-based wearable computer system developed at MIT Media Lab by Steve Mann in 1994 and 1997 (headworn gestural interface), and 1998 (neck-worn version), and further developed by Pranav Mistry
05/2015 – 05/2015
Pupil/eyeball identification is an automated method of biometric identification that uses mathematical pattern-recognition techniques on images of one or both of the pupil of an individual's eyes.
Education
Bachelor of Engineering (Computer)
2011 - 2015
Vidya Pratishthan's College of Engineering, Baramati.
Higher Secondary School
2009 - 2011
K.T.H.M. College, Nashik.
Professional Experience
Freelance Full Stack Developer
Mar 2020 - Present
Technical Manager - PHP
Aug 2019 - Feb 2020
Exceptionaire Technologies, Pune, India.
Main responsibility was to Lead a team of 6 members and developed critical modules of the project.
Do the unit testing of team member's functionalities.
Define time estimation of the projects
Prepare project execution plan and define sprints.
Freelance Full Stack Developer.
Aug 2017 - July 2019
Worked with international, local clients and provided them satisfactory software service.
Worked in every stage of the Software Development Life Cycle (SDLC), From communication, requirement gathering to the deployment of the project.
Maintained five-star rating for every project on upwork.com
Worked independently on various projects.
Designed and developed the most difficult production life cycle functionality for an ERP software of leading PCB manufacturing company in just 7 days.
Associate Software Engineer.
Sept 2016 - July 2017
CORECO Technologies, Pune, India.
Designed and developed two main products of CORECO.
Developed an ocr based electric meter reading application which optimizes meter reading efforts by 60-80%
Worked simultaneously on multiple projects.
Worked independently on various projects.
Developed an image search engine and video search engine module in a web-based project.
Working Process
1
Client Interaction
Understanding the requirements of clients is the topmost priority, along with analyzing their needs and thereby suggesting them the best solution.
2
Design
Planning and drafting are done before initiating the process of development. At this stage, the entire plan is transformed into a design document like SRS, BRD & Wireframes and presented to the stakeholders.
3
Development
Initiating the process utilizing the latest technologies followed by Agile development, Sprint Planning, actual coding & simulteneous sprint module testing of the project.
4
Test & Deliver
After completion, thorough testing is performed to detect any defect present in the system before delivering the product to the client. A training session is arranged for the client to understand the aspects of the product properly as well.
5
24X7 Support
Assistance provided 24x7 if any issues arise to solve it as well as to clear out doubts regarding the service.
Testimonials
Gaurav is really honest, cooperative, hard-working and was always ready to experiment with new or even odd requirements which I came up with. He is a very calm and composed person with great communication skills and will be always there to help you even during midnight, in case of urgency.
J. K. Nair
India
Gaurav is the top web developer. He will be a valuable partner to the business and will make sure everything is perfect before completion (Both functionality and design). He truly cares for his clients and will provide the best end product, better then any big company can offer. I would choose to work with Gaurav rather than any other developer/company!!
Justin L.
USA
Gaurav is a great Developer who doing his work on time and perfect, he working in team and was always there when some one need him, thats why we'll work with him again and again.
Rohan S.
Germany.
Gaurav is talented and hardworking developer who always delivers things on time. I'm extremely satisfied with the website he built for us and service he providing from more than 2 years.
Nikhil S.
India
Gaurav is one of the most impressive web developer that I've had the pleasure to work with. Gaurav is talented, smart and punctual. Better yet, he always goes above and beyond. Despite only working with Gaurav for a short time, he has become one of my favourite developer.
Taranjit S.
India
In my over decade long experience in web development, rarely have I ever come across an all-round developer like Gaurav. He takes complete ownership of his work and he has brought discipline, order, stability and consistency to all the projects we have worked together on. I personally vouch for his reliability and expertise with handling complicated projects and code structures. His communication and feedback is top notch and I could not have asked for a better developer to work with, than him
Ajinkya P.
India
Contact
Location:
Vanaz Corner, Kothrud, Pune, India, 411038
Email:
Call: